It looks like Apple will use wireless connectivity as a differentiator for its next iPhone lineup, if you believe this new rumor. A few days ago we reported that the iPhone 15 would come with Wi-Fi 6E. Now, a new leak with an alleged internal document from Apple shows that this feature will be limited to the Pro models.
According to this leak from Unknownz21 (@URedditor), as reported by MacRumors, the vanilla iPhone 15 models will not get this feature. Apple recently began introducing the latest Wi-Fi generation into its products, starting with the new M2 chip-based Macs.
Could this mean the iPhone 15 will get the older A16 chip?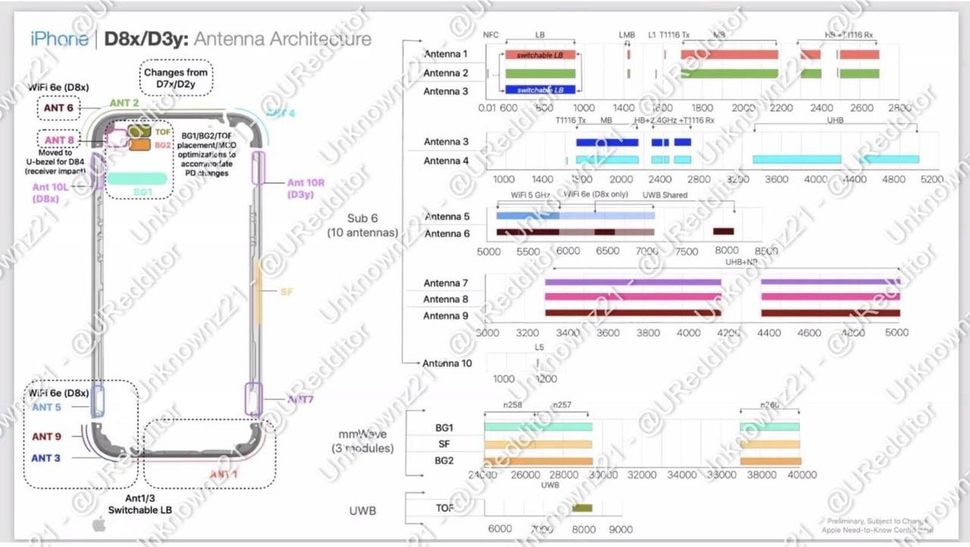 This leak comes with a compelling antenna architecture document showing the wireless implementation for the iPhone 15 models. The diagram shows the antenna details for the iPhone D8x, which is supposed to refer to the Pro models, while the iPhone D3y designation is supposed to be for the vanilla iPhone 15 models.
It looks like the iPhone 15 models will continue with Wi-Fi 6, while the Pro models will get Wi-Fi 6E. The document also refers to the D7x, i.e. iPhone 14 Pro models, and D2y, i.e. iPhone 14 models showing the changes from these models. MacRumors has also said it has seen more documentation confirming the Wi-Fi 6E exclusivity.
This differentiation could just mean that Apple will stick the last generation A16 chipset into the iPhone 15 models, just like it did with the iPhone 14 series. The iPhone 15 Pro models may be the only ones to get the nifty new A17 chip, which comes with Wi-Fi 6E, just like the all-new M2 did.
We know for sure when the next upgrade to Apple's top iPhones will drop later this year, and more details are expected to emerge in the coming months.