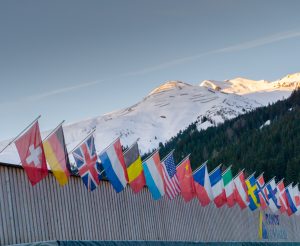 Flags fly outside the convention center in Davos, Switzerland, during the World Economic Forum, January 15, 2020.
Credit: Depositphotos
Indonesia Night is a hot ticket in Davos. At this year's party, a crowd of 700 sampled regional delicacies such as Medan fish from Sumatra and Taliwang chicken from Lombok. "The food will . . . be very good tonight," promised Luhut Pandjaitan, a senior minister in President Joko Widodo's cabinet. Tony Blair was rumored to be in the room.
The World Economic Forum (WEF) is positive about Southeast Asia. One of the buzzy acronyms circulating at the meeting was VIP markets: namely Vietnam, Indonesia and the Philippines. Still, most leaders from the Association of Southeast Asian Nations (ASEAN) chose to give the annual jamboree of global elites in Davos a miss. Only Ferdinand "Bongbong" Marcos Jr. from the Philippines brought a significant contingent. Asia generally had a low-key show, with only three heads of state or government out of the 52 attending.
This year's gathering in Davos, which began on January 16, was also missing a number of marquee names that had previously attended. In 2017, then-Vice President Joe Biden, Xi Jinping, Theresa May and Shakira were among the guests. The President of China delivered the keynote address. ASEAN was represented by Cambodia's Hun Sen and Vietnam's Nguyen Xuan Phuc, both regulars on the Davos speaker circuit. But this year, Hun Sen skipped the event and Phuc stepped down as president while the WEF's annual meeting was underway.
Among Asian participants, there is a sense that the event is drifting away from its global agenda. Nikkei Asia referred to the meeting as "a Eurocentric gathering." After last year's conference, Malaysian columnist Karim Raslan wrote: "How can it be a 'World' economic forum when the concerns of Asia, which will contribute 60 percent of global growth by 2030, are ignored?" The war in Ukraine is one of the areas of concern. Some ASEAN countries argue that sanctions against Russia are counterproductive. Hun Sen told an audience in Davos last year: "Sanctions should be stopped because they do not bring any benefits. Not only do poor countries suffer, even the countries that issued the sanctions are affected."
Summit fatigue may be another reason for the absence of ASEAN leaders in Davos. Southeast Asia hosted a trio of conferences in November that arguably surpassed Davos in star power. The guest list for the G-20 summit in Bali included Biden, Xi and German Chancellor Olaf Scholz. Biden also came to the ASEAN Summit and related meetings in Phnom Penh. US Vice President Kamala Harris spoke at the APEC meeting in Bangkok, which Xi also attended.
On the sidelines of the ASEAN conference, WEF founder and chairman Klaus Schwab persuaded the president of the Philippines to make the trip to Davos. Manila news media noted that Marcos was the only ASEAN leader present. Rappler commented: "Perhaps other ASEAN leaders realized how frivolous the event was, or realized that they can grow their economies robustly without having to tussle with the Davos elite."
The Davos nexus has become "politically toxic" for world leaders in the post-COVID-19 era. "Its star is fading a little bit. If you look at who's coming, it used to be that there were really serious heavyweights. This year there's only one G-7 leader," noted Zanny Minton Beddoes, editor-in-chief of The Economist "But at the same time, I actually think it's useful. And it's especially useful in a world that's … fragmenting."
Over ten years ago, a Brookings essay asked, "Are the days of Davos men numbered?" The popularity of Indonesia Night could suggest otherwise. But for many in public office, the schmooze party at the ski resort in the Swiss Alps no longer holds the same appeal.