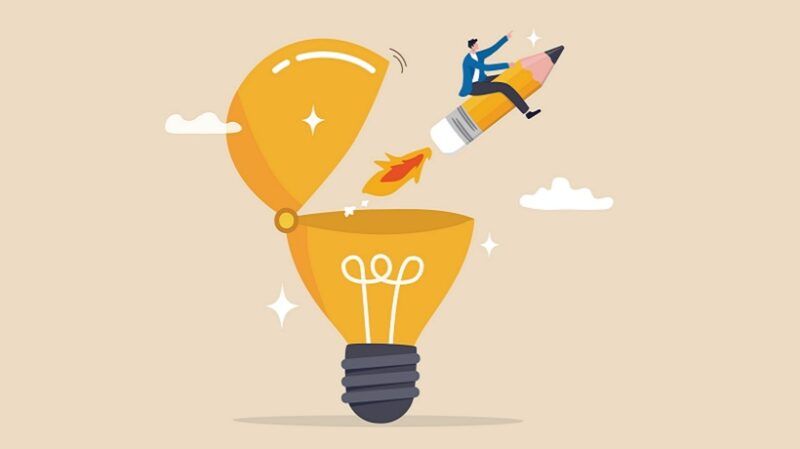 7 Ways L&D Teams Can Build Innovation Capabilities
Innovation. For many it has become something of a buzzword, but it is much more than that. In today's rapidly changing business landscape, companies must continuously adapt and innovate to remain competitive and deliver results. But innovation doesn't just happen. It requires partnerships between many stakeholders, including learning and development (L&D) teams.
In many workplaces, the L&D team is usually brought in after solutions are generated. Their main role in these cases is to assess skill gaps and help employees develop new knowledge and skills for implementation. While this is an essential part of an effective change management strategy, L&D teams can provide much more value when they are also involved in building business innovation capabilities.
How learning and development teams can improve business innovation
1. Foster a workplace culture that supports creativity
Organizations with high performance learning are 92% more likely to innovate [1]. A culture of continuous learning is a culture that values, prioritizes and encourages learning in the workplace. It supports innovation by cultivating a growth mindset and creating an environment that fosters creativity. Changing a workplace culture takes time and requires support at all levels of management, but it is worth the effort. L&D teams can play a major role in identifying and implementing strategies to develop a learning culture.
2. Facilitate critical thinking to support innovation
Problem solving and critical thinking are two crucial skills that support creativity and innovation. These can help employees identify and deal with challenges and find opportunities to innovate. However, generic courses with a focus on problem solving are not enough. On the contrary, L&D teams will have a much greater impact if they focus on critical thinking in the context of performance and allow employees to work on real-world problems or participate in activities that encourage them to think creatively.
3. Provide opportunities to experiment with technology
The right resources and technology can strengthen employees' creativity and innovation. As the pace of technological change continues to accelerate, employees have access to more virtual tools than ever. Depending on how well employees understand these tools, their capabilities and their limitations, they can either promote or hinder innovation.
Experimentation, combined with feedback and coaching, is a key part of developing new technological skills. L&D can help support employees by providing opportunities for experimentation in a safe and supportive environment. This is especially true in a group environment where employees can practice using technology tools to collaborate and share information and ideas.
4. Develop design thinking skills across your organization
Design thinking can help employees and teams generate better ideas, align with customer needs, and more [2]. It is a non-linear process that combines creative and analytical thinking to find innovative solutions to problems. If an organization is not currently using design thinking at scale, L&D teams can help select a vendor to work with to provide training to managers and employees. L&D teams can also help employees apply what they've learned after training by incorporating design thinking into the L&D team's own work.
5. Improve leadership and management skills
Innovation requires dynamic managerial capabilities, which include managerial cognition, social capital and human capital. These three dimensions can influence how effectively leaders respond to internal and external challenges. It can also affect their decision-making, strategic change and organizational performance.
Leaders and managers must also be able to create an environment that supports creativity and innovation. Some examples include providing a psychologically safe and inclusive environment where employees are comfortable sharing ideas, recognizing and incentivizing creativity, establishing clear processes that support innovation, and providing feedback and guidance. L&D teams can help leaders and managers build these capabilities and skills by assessing needs and developing learning solutions when appropriate.
6. Expand and strengthen the knowledge network
Knowledge is one of the most important strategic resources a company has for innovation [3]. Innovation involves many interactions and centers on a learning process where employees acquire knowledge and information from many sources. These knowledge flows, to and from internal and external sources, create a knowledge network.
Most organizations have a knowledge management system of some kind, whether it's a simple SharePoint team or an enterprise-wide platform with many features and capabilities. These systems often serve as the core infrastructure for knowledge networks. Knowledge can also be shared informally between individuals. L&D teams can help support innovation by evaluating the existing systems, knowledge flows and knowledge sources to identify gaps and opportunities for improvement to support innovation.
7. Lead by example
L&D teams can help drive the company's innovation capabilities by focusing internally first. L&D innovations can help meet changing customer and learner needs and industry and market shifts. By exploring new technology, seeking inspiration from other industries and collaborating with other stakeholders, L&D can extend and improve existing processes and services.
References:
[1] Leader in learning
[2] Why Design Thinking works
[3] Business innovation and knowledge flows