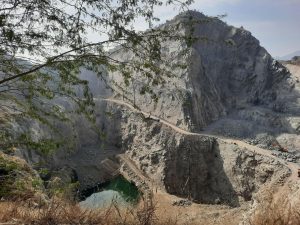 Mining at a limestone mine in Kotputli, Rajasthan. This drainage is a mixture of metallic water formed due to a deadly chemical reaction between rocks, water and sulfur-containing minerals.
Credit: Sneha Swaminathan
"The first thing I do in the morning is sweep the dust off ours tipad (terrace), "says 12-year-old Shiv Singh, a resident of the village of Chotiya, which is predominantly occupied by people from the Meena tribe in Kotputli, Rajasthan. Shiv lost his mother to Silicosis (a lung disease caused by excessive inhalation of silica dust found in mines and quarries) in 2019 and now takes care of his 2-year-old siblings on his own while their father works at stone crushers opposite their settlement.
"The dust from the crusher travels in the air and settles on our terrace. The air in our surroundings is so dusty that every day we have to tread carefully and make our way through the dense layer of dust. Most of the time we gasp for breath, "Shiv continues.
Kotputli, located between Delhi and Jaipur, is growing as an important epicenter of quarries in the country. As such, several villages around the municipality continue to suffer in the shadow of illegal quarries.
"I have not slept properly for years. The noise created by mine blasting [use of explosives to break rock for excavation] is so scary that I have sent my children to Jaipur, to my brother's house, "says RK Meena, an entrepreneur and sammej sevi (social worker) in the village of Shuklawas, Kotputli. Like his restless sleep, his house is also exposed to illegal mine blasting with enlarged cracks in the walls.
In addition to infrastructure damage, illegal mining is also responsible for the increase in cases of silicosis, a long-term respiratory disease that occurs in people working in mines without safety equipment. The work at the mines has also faded fingerprints from some workers, making it difficult to use their imprints to prove their identity on public documents and portals.
"I was diagnosed with silicosis two years ago. Who would manage the economy if I did not continue to work in the mines? " says Lakhmi Chand, a 50-year-old crusher worker in the village of Chotiya, Kotputli.
Under the Factory Act and the Workers' Compensation Act, silicosis is recognized as an occupational disease that requires employers to pay compensation to workers diagnosed with it. In 2012, a Rajasthan State Human Rights Commission scheme announced a compensation of 100,000 Indian rupees for workers diagnosed with silicosis by public hospitals and 300,000 rupees for families of those who succumbed to it. However, the majority of workers are not aware of these compensation schemes and even for those who know, the process of applying for compensation is tedious.
Another problematic result of illegal quarrying is crop failure in one of the driest parts of India. Most of the residential buildings in Kotputli are located near blasting sites and crushers. The dust that is released ends up accumulating on the crops that the villagers cultivate.
"The yields are so low that I have lost buyers. No matter how much we try to save the products, the dust always overwhelms us. I have now given up, "says Kamla Devi, a farmer from Chotiya Village who owns 100 square meters of land. Devi and several others filed several petitions, even protesting against illegal mining and environmental degradation due to excessive dust released from crushers in 2017, but nothing concrete has been done to date.
Across the municipality, the bustle of meeting the growing demand for building materials and the economic benefits of these activities has had a catastrophic impact on people, livelihoods and the ecosystem. Activists like RK Meena claim that the violations from giant quarries and crushers go unnoticed by the authorities due to an alleged political connection.
What is left in Kotputli are the remains of collapsed families, livelihoods and legacies. Once a pristine Rajasthani village, Kotputli has now become a classic case of over-extraction, resource exhaustion, human rights violations and overcrowding.