Whenever vlogger Maggie* sees an opportunity to create content for her YouTube channel, she's on it.
Whether her family is fighting, doing something funny, or better yet, if they're shedding genuine tears, it's all fair game.
So when her young son found out their family dog died, Maggie couldn't resist.
She turned on her phone and started comforting him so she could share it with her audience.
But she forgot a very important thing: Maggie failed to edit out the parts where she was directing her son to cry.
And then she made him pose for photo after photo so she could get a good thumbnail to post on YouTube.
Want to join the family? Sign up to our Kidspot newsletter for more stories like this.
Mum exploits son's grief for YouTube video
The video comes from a TikTok criticising Maggie's behaviour and calling her out for exploiting her son's grief.
The TikTok shared the final part of the video, where Maggie brings her son in for a cuddle and tells him, "Act like you're crying".
"I am crying," he tells her between sobs.
RELATED: Mum advises against posting kids' photos online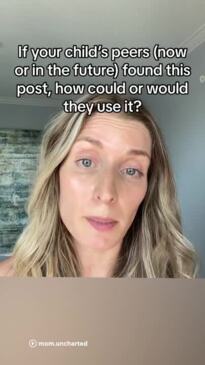 The video continues to get more awkward as she asks him to pose "for the video". For thirty seconds Maggie tries to get the perfect thumbnail, until finally she gives up and directs him to look straight at the camera while she holds his face and he cries.
"It's ok, it's ok, it's over," she says as they finish up the video.
RELATED: 'The child was begging for food and water'
RELATED: YouTube miscarriage couple deny it was a hoax
TikTok responds to vlogger video
The TikTok community was in shock at the insider look into how some family vlogging channels work.
"This is like an episode of Black Mirror," one person wrote.
"Sometimes I feel like I'm failing as a parent, then I watch this clip and it makes me feel so much better," said another person.
"Child protective services immediately," a third person said.
The Post 'Pretend to cry': Mum caught coaching son for YouTube video Originally Posted on www.kidspot.com.au