Every year, Apple introduces a new version of macOS. Certain Macs miss the mark when it does, and no longer support the company's latest and greatest software. Open-source OpenCore launched last summer when macOS Ventura arrived in beta. It has matured since then and now works on several Macs that didn't make the list of supported devices.
As first noted by 9to5Mac (opens in new tab), the OpenCore Legacy Patcher (OCLP) originally allowed older Macs to work with macOS Big Sur and macOS Monterey. The tool has left beta and is based on the same OpenCore bootloader used for Hackintosh.
It was only recently that OCLP worked with macOS Ventura.
Old is new again
OCLP developers explained to 9to5Mac that Apple has "removed most of the legacy drivers from macOS 13, as this version no longer supports any Macs with Intel CPUs older than the seventh generation. Despite these limitations, bringing the latest version of OCLP successfully adding life to Macs. which has been discontinued by Apple."
The latest OCLP version works with the following Macs:
MacBook 2008 – 2016
MacBook Air, 2009 – 2017
MacBook Pro, 2008 – 2016
Mac mini, 2009 – 2017
iMac, 2007 – 2017
Mac Pro, 2008 – 2013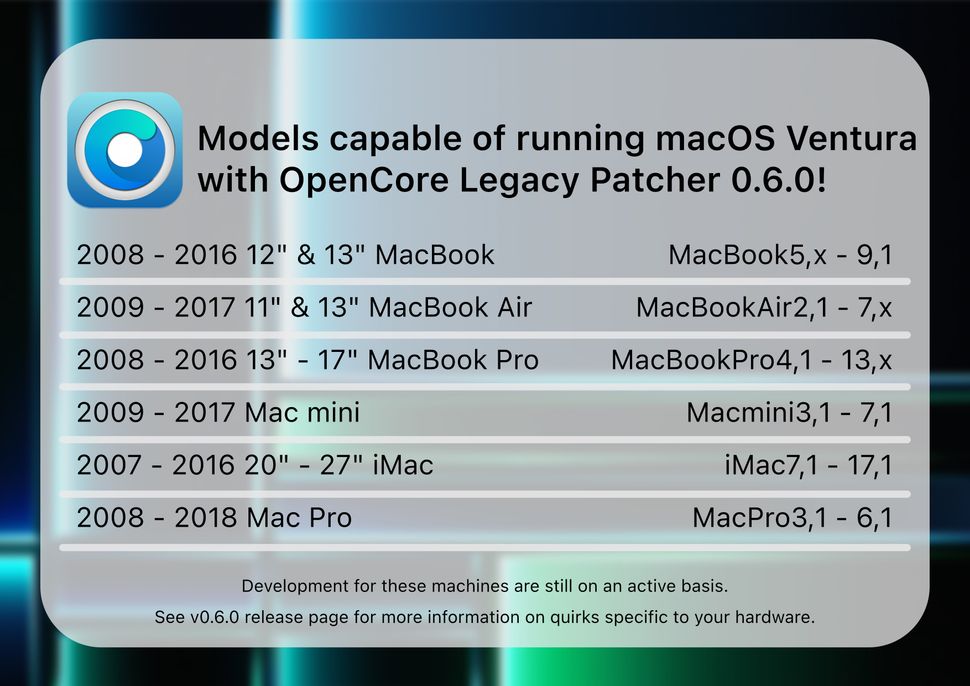 Like all open source software, OCLP has limitations that tend to change as Apple introduces new macOS versions. Therefore, there is a risk associated with installing it on your older Mac. Despite this, it's good to see a tool like this as it allows older Macs to stay up to date a little longer, warts and all.
When it was released last fall, Apple's macOS Ventura brought a small number of new features to Macs, plus various updates. This includes the all-new Stage Manager and Freeform and an updated Continuity Camera feature. The release also brought the mobile Weather and Clock apps to the Mac for the first time.
For more information about OCLP, visit its GitHub webpage.