On November 13, 2003, President Néstor Kirchner promulgated Law 25844 that established the National Thought Day in honor of the birth of Arturo Jauretche on November 13, 1901.
How much do we owe Arturo Jauretche? His contribution to the birth and construction of a national thought situated socially, culturally and politically is immense.
Jauretche takes – throughout his entire life – one by one the "truths" on which the oligarchic elite had built its cultural architecture – which is, at the same time, part of its economic-social architecture – and dismantles and analyzes them. to point out in each case, its colonial meaning, and its objective of delivering national resources to the voracity of large foreign and national capital.
"Civilization and barbarism", the Sarmiento duo founding the "sepoy" thought, is denounced for what it is: the false divide that the oligarchic elites needed to justify the plan to build a nation for a handful of super-rich and eliminate all those that could hinder that objective.
…There is a decades-long process – Don Arturo tells us – of "pedagogical colonization" that has been constituting a way of seeing and thinking about the world from outside the national reality.
And there Jauretche goes demystifying the informative role of the "big press" to explain to us – decades before fake news – why the hegemonic media need to lie: the alliance between land-owning capital, the big press and external capital demands it. .
…Our middle classes who believe they are part of an elite to which they are not invited – except when it comes to attacking popular processes – are described between irony and sadness in their desire to "belong."
With Jauretche, many of us began to think nationally, and there we discovered that we were not alone:
To think nationally is to recover the thought of San Martín, Bolívar, Artigas, Dorrego – to give some examples of the emancipatory period; is to recover José Martí and Manuel Ugarte with their Latin American perspective as that of a single "Great Homeland"; To think nationally is to review the wonderful texts of Raúl Scalabrini Ortiz when he exposes the nature of British exploitation in association with the Argentine landowning elite; Eva Perón's speeches when explaining the dichotomy between oligarchy and shirtless people; It is also to review the writings and work of that president-statesman who was JD Perón and to enter into the historical-political characterizations of Jhon William Cooke along with the search for dialogue between Marxism and the national perspective of Juan José Hernández Arregui or Abelardo Ramos. We could mention – fortunately – many and many other national thinkers, but we prefer to point out in this review that the richness and depth of our national thought always goes hand in hand with an emancipatory political project: it is impossible to develop a national thought that does not connection with a national and popular political project.
…National and emancipatory thought is also nourished by the word and action of our political, social and union leaders: it is enough to reread the speeches and writings of Perón, Evita, Raimundo Ongaro, Héctor J Cámpora, Néstor and Cristina Kirchner. There, in the words and actions of them and so many others, an emancipatory national thought is also emerging.
Source: Carlos Ciappina, Professor of the Faculty of Journalism and Social Communication. National University of La Plata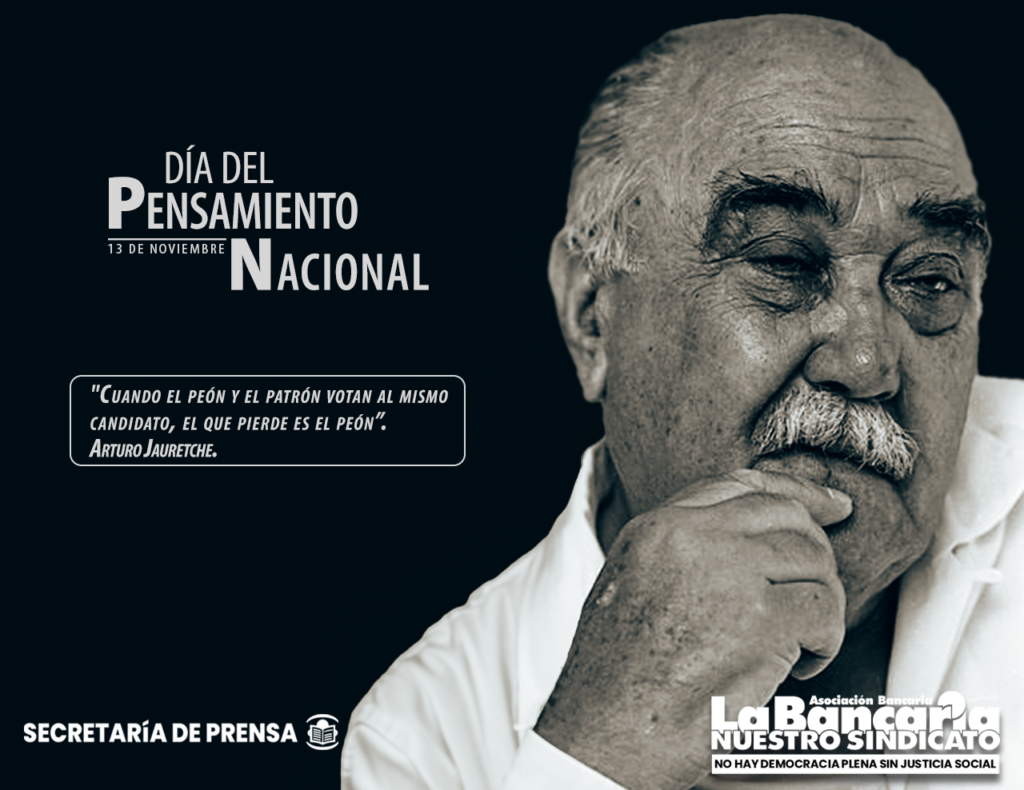 The post first appeared on labancaria.org