Starting today, the new 14-inch and 16-inch MacBook Pro and Mac mini are available for pickup at Apple Stores in the US and select other countries without pre-order. Online orders will also begin arriving to customers today.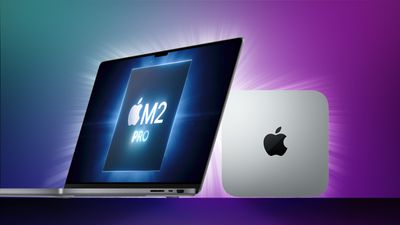 To order a product with Apple Store pickup, add the product to your bag on Apple.com or in the Apple Store app, go to checkout, select "I'll pick it up," enter your zip code, select an available Apple Store location , select a pickup date and choose a 15-minute check-in window. Payment is made online and a valid government-issued photo ID and order number may be required upon collection.
Pickup dates for many standard configurations are shown as January 26th at the time of writing, with custom configurations not available until at least February 10th. Some standard configurations may also be available for walk-in purchase today, but availability will vary.
Powered by Apple's latest M2 Pro and M2 Max chips, the new MacBook Pros offer up to 20% faster CPU performance and up to 30% faster graphics compared to previous generation models. The laptops can be configured with up to 96GB of RAM, compared to a maximum of 64GB previously. Other improvements include Wi-Fi 6E, an upgraded HDMI 2.1 port with support for up to an 8K external display and an extra hour of battery life.
The new Mac mini is available with M2 and M2 Pro chip options. The desktop has no major design changes, but M2 Pro configurations are equipped with four Thunderbolt 4 ports and one HDMI 2.1 port, compared to two Thunderbolt 4 ports and HDMI 2.0 on the M2 model. Other upgraded specs include Wi-Fi 6E and Bluetooth 5.3.
The new MacBook Pro starts at $1,999 for the 14-inch model and at $2,499 for the 16-inch model, while the new Mac mini starts at $599.