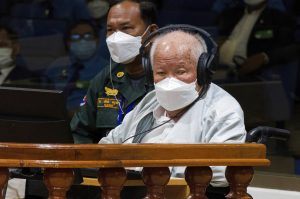 In this photo released by the Extraordinary Chambers in the Courts of Cambodia, Khieu Samphan, right, the former head of state of the Khmer Rouge, sits in a courtroom during a hearing at the UN-backed war crimes tribunal in Phnom Penh, Cambodia, September 22, 2022.
Credit: Nhet Sok Heng/Extraordinary Chambers in the Courts of Cambodia via AP
A genocide conviction registered against Khieu Samphan, the 91-year-old former Khmer Rouge head of state, was upheld by a full bench of seven judges at the UN-backed war crimes tribunal in Phnom Penh on Thursday.
He was convicted of genocide along with Nuon Chea, also known as "Brother Number 2", in 2018 by the Extraordinary Chambers in the Courts of Cambodia (ECCC) for his role in the massacre of Muslim Chams and ethnic Vietnamese and a number of other crimes .
King Srim, chief judge of the Supreme Court Chamber, said defense lawyers had filed what they said were 1,824 legal errors challenging the convictions, including additional charges of crimes against humanity, made by the trial chamber.
It included challenges to the ECCC's jurisdiction, international law, claims that he did not receive a fair trial, that the prosecution was flawed and characterized by a "historical approach" and that there was insufficient evidence to support the convictions.
King Srim spent more than two hours reading a litany of summary rulings that ranged from rape – including man-on-man – within marriage to enforced disappearances and the "massive" slaughter of Vietnamese and Cham to be "exterminated" for political reasons.
With each ruling, the judge said the trial chamber had not erred in reaching its verdict and that Khieu Samphan had failed to substantiate his legal claim, adding "there is nothing new to support a different conclusion."
Khieu Samphan remained calm and healthy for his years as he sat in a wheelchair and wore a face mask as hundreds of Khmer Rouge survivors and their relatives gathered inside and outside the Phnom Penh court to hear the ECCC's final decision.
ECCC spokesman Neth Pheaktra said outside court that the verdict had marked a "historic day for the ECCC, for the Cambodian people and especially for the victims."
It was the last decision made by the ECCC, 16 years after it opened the first prosecutions against Pol Pot's surviving henchmen, for the deaths of some 2 million people between April 1975 and January 1979.
Khieu Samphan and Nuon Chea were also convicted of crimes against humanity in a separate trial in 2014, as was Kaing Guek Eav, better known as Duch, who processed 24,000 people for extermination at the S-21 security prison in Phnom Penh.
All three were sentenced to life behind bars by a court that has cost about $350 million and has been sharply criticized for political interference by the Cambodian government and the failure to reach an agreement on the prosecution of lower-ranking cadres.
Khieu Samphan also appealed for his two life sentences to be served concurrently, but Krom Srim said this was "not inappropriate or unfair in any way" and ordered him back to prison.
He launched his appeal last August, telling the ECCC he could not accept allegations he planned to commit crimes against "my countrymen", including the Muslim Cham and ethnic Vietnamese.
"No matter what you decide, I will die in prison. I will die always remembering the suffering of my Cambodian people," he said.
"I will die seeing death. I am alone before you. I am judged symbolically rather than by my actual deed and as an individual. That is the end."
His defense also argued in a four-day hearing that the Supreme Court must overturn the Trial Chamber's genocide conviction, saying it failed to issue a written and reasoned verdict on time, which could constitute a violation of the court's own rules.
But the Supreme Court Chamber of four Cambodian judges and three international judges disagreed and upheld the genocide and other verdicts, which is rare in the international court system.
Jean-Paul Akayesu was found guilty of 15 counts of genocide in September 1998 by the International Criminal Tribunal for Rwanda.
It was the first conviction recorded since the UN Convention on the Prevention and Punishment of Genocide was ratified by General Assembly resolution in 1948. Since then, six people have been convicted of genocide.
The ECCC is expected to focus on victims and archive its legal findings before finally disbanding at the end of 2024.