Jordi Sánchez and Pep Antón get together again to write and direct this comedy full of black humor that hits theaters on October 27
Take a group of people who have nothing to do with each other, give each of them a different reason to be selfish, and lock them into a community where they are forced to agree. This is how you would have a problem in real life and a good comedy in fiction. Verminthe first film directed by Jordi Sanchez with his inseparable companion Pep Anton, portrays the meanest side of the human being and that is precisely why it works. It opens in theaters on October 27.
"Neighboring communities have the ability to bring together diverse people and force them to agree on some point. So, of course, that generates conflict and conflict generates comedy," points out Carlos Areces, protagonist of the film. He plays a man who has dedicated his last 10 years to caring for his sick mother. When he sees that he has died he feels a ray of freedom, but his brother, drowning in debt, arrives to manipulate him for his own benefit.
Conflicts are so important in fiction because in real life they are a nightmare. Sometimes when we have wanted to move house I always think: 'Why is this so cheap? Because it has terrible neighbors.' The neighborhood issue is torture."
The preparation of Vermin started more than 20 years ago. In 2000, Jordi Sánchez and Pep Antón wrote their first play together, Half and half -which has been so successful that it has crossed our borders-. This story centered on two brothers had the potential to reach the big screen, so they wrote a film script where they introduced other characters. This happened in 2004 and the script did not stop circling until the producer Feelgood wanted to collaborate with them and they became interested in the story.
Two decades later, it is released in theaters, making a very authentic portrait of a Spanish neighborhood community, introducing details that, however implausible they may seem, are based on real life. "We start from our lives, our families, our friends and the things we hear on the street. Even the most bizarre story in the film, which is the one about the fans, is true"says Antón.
That idea of ​​a woman who is obsessed because something was said one day at a family gathering is very familiar. 'My grandmother told me at Christmas 2002 that this would be for me and it has to be for me'
"We both come from a dormitory neighborhood, from the lower middle class. We have lived a lot of life with neighbors, with bathroom windows through which you can hear things, with buses, subways and ham sandwiches on the street. So, that relationship with the neighbors is part of our usual life, especially from a time. Not now, but from my childhood, yes," says Sánchez.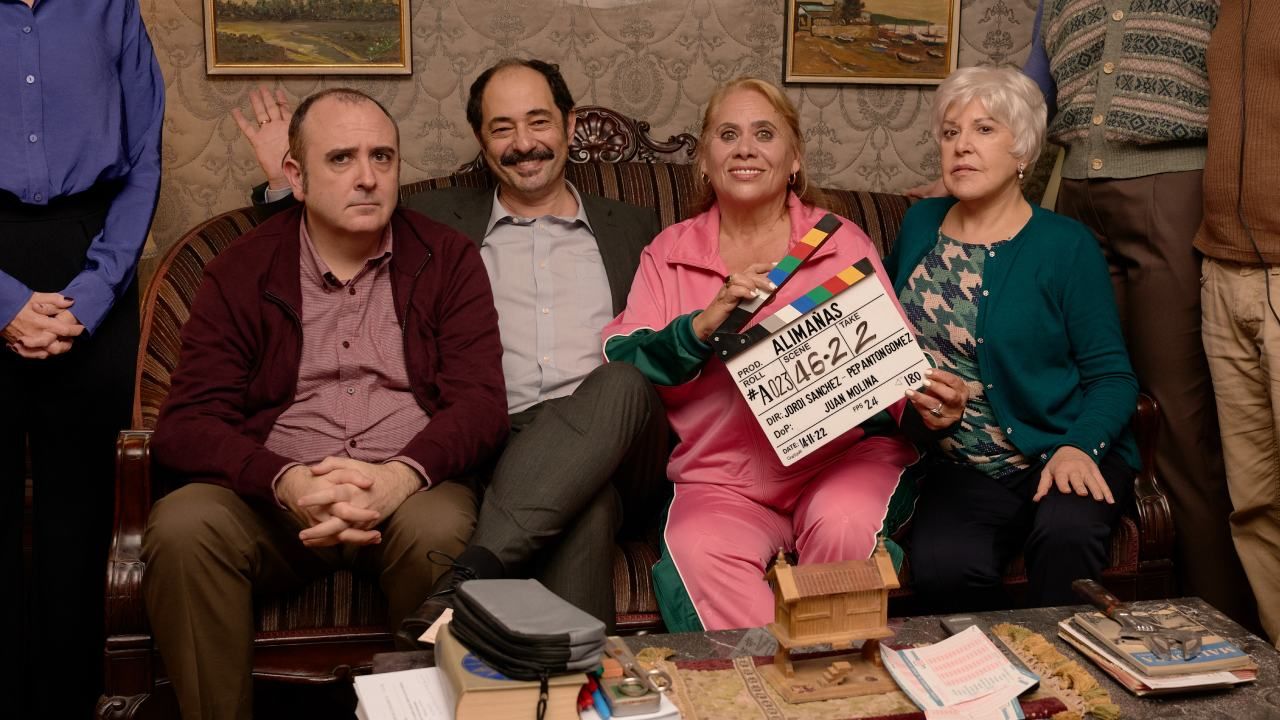 Writing about such everyday things has its dangers and that, in one way or another, you end up pouring your meanest side into the script or, worse, that of your loved ones. "It has happened to me to write a work and be inspired by friends and then they go to see it and I think: 'What a shame! They are going to discover themselves up there.' But it is the way for things to work, to write as that you know," says the comedian and screenwriter. "Even that nervous laugh when you're the one recognizing yourself," adds his partner.
Vermin It has been created with a script worked on for years, but also with the comfort of a family environment where the actors have felt comfortable to contribute their grain of sand. There has been some improvisation and ideas that emerged at the moment and, in that sense, Carmina Barrios takes first place. The actress who began her career under the orders of her son Paco Leon con Carmina or burst She was able to be herself in the recording.
I improvised a lot, but it also slowed me down a lot, because I have a vocabulary that helps me a lot. The way I am. I swear a lot and, of course, sometimes I went a little further than that. They told me that it was for everyone and I said, 'Oh, yes, it's true.'
Director Jordi Sánchez does not usually work from improvisation, but he recognizes that in the case of Carmina it was necessary to let her adapt the character. "Every actor works in a different way. I have a contradiction as an actor. As an author, I don't like having my text touched at all.. Thats how clear I have said it. There are directors who say that the text doesn't matter, that they are telling a story and that the actor does what he wants, and there are people who are very faithful to the script. Carmina, for example, has another way of functioning and drops pearls when she is absolutely free that are impressive. Carmina is a wonderful exception", he assures.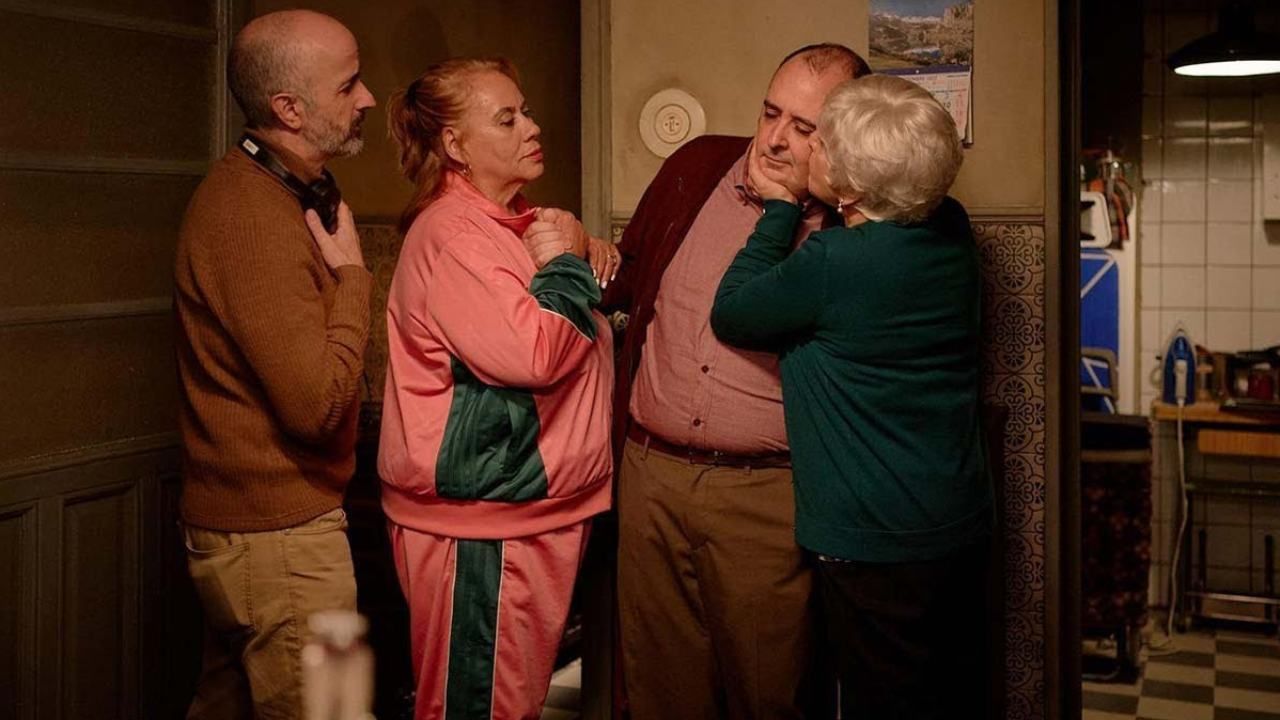 Barrios is part of the group of three neighbors who are trying to save Pura, Carlos Areces's mother, who is on her last legs, because they know that, as soon as she dies, they will be left on the street. "Was there an understanding from the first day? Yes, from the first day, from the first reading of the script, there was an understanding between the three of us and in some way each of us put ourselves in the place occupied by the character. It emerged spontaneously and then we We spent time playing with each other, so it was a lot of fun," says the actress. Pilar Bergés.
"Spain has that bad temper, that black humor. And then also that, that kindness, that goodness, that affection, that tenderness. But it has everything together and that is why Spain is different," he declares. Loles Leon, another of the neighbors. That bad temper and, above all, that desire we have to laugh at human miseries is what is at the center of this story. "Bad characters are much more attractive because they allow you give free rein to your own pettiness that life doesn't let you get out. Let's see why I can only be mean at home."Adds Silvia Abril between laughs.
Vermin hits theaters on Friday, October 27.
The post first appeared on www.sensacine.com