The iPhone 14 and iPhone 14 Plus have a more repair-friendly design with a removable back glass panel that allows customers to more easily make aftermarket changes to the device. Already, someone has modified an iPhone 14 with a transparent glass panel on the back that reveals various components inside the device.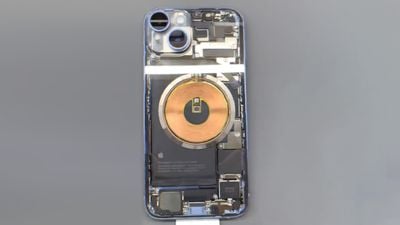 The transparent back glass reveals the battery, wireless charging coil, logic board, Taptic Engine, inside of the Lightning connector and more. The modded iPhone 14 even has a custom rear camera housing with a frosted finish.
The image of the modded iPhone 14 was shared today by few Twitter accountsbut we have yet to find the original source.
iPhone 14 and iPhone 14 Plus are the first models with an easily removable back glass since the iPhone 4S. It's likely that many colorful and transparent glass back panels will appear for hobbyists over time, just like in the iPhone 4 and iPhone 4S days. Back in 2011, someone even modded the iPhone 4 to have a glowing Apple logo on the back.
A potential obstacle to aftermarket mods is that Apple requires technicians to complete "System Configuration" after replacing the back glass on iPhone 14 models, according to internal documentation obtained by MacRumors. It is not yet clear what happens if this software calibration process is avoided – the options could range from a simple warning about non-genuine parts in iOS to functionality such as wireless charging that is affected.
iPhone 14 Pro and iPhone 14 Pro Max do not have a removable back glass panel.
Popular stories
AirPods Pro 2: Six new features if you upgrade
The new second-generation AirPods Pro will begin arriving to customers on Friday, September 23. For customers still using first-generation AirPods Pro or older AirPods models, there are several new features and changes to look forward to. We've outlined six significant new features, changes and improvements that the new second-generation AirPods Pro offer compared to older…
Apple says iPhone 14 Pro camera vibration issue does not require repair
A strange issue that causes the rear camera to vibrate on some iPhone 14 Pro and iPhone 14 Pro Max models does not require a repair, according to Apple. iPhone 14 Pro Camera Vibration Problem via Luke Miani When asked if customers who have already experienced the problem on their new iPhone should visit an Apple Store or an Apple Authorized Service Provider, Apple said users should simply update…
iFixit shares iPhone 14 teardown, praises new design with easily removable screen and back glass
Repair site iFixit today shared a video teardown of the standard iPhone 14. In a blog post, iFixit CEO Kyle Wiens praised the device's more repairable internal design, calling it the most comprehensive iPhone redesign since the iPhone X. As mentioned in a few reviews , the iPhone 14 and iPhone 14 Plus are the first iPhone models that can be opened from the back of the device since…
Realme Crowdsourcing Ideas to Copy Apple's Dynamic Island
Chinese smartphone maker realme is asking its "loyal fans" for ideas on how to replicate Apple's Dynamic Island from the iPhone 14 Pro and iPhone 14 Pro Max. In a challenge, realme says, "the user interface around the camera hole can transform into different shapes and sizes to display incoming phone calls, alerts, notifications and more," just like Apple's Dynamic Island. The company finds this idea…