WhatsApp is an incredibly popular iPhone app that connects more than a billion active members worldwide every day. It lets you send messages to friends or groups of friends via Wi-Fi or 4G/5G and save on your phone bill. (Of course, you may end up paying for data if you go over your limit, so don't go crazy!)
Unfortunately, WhatsApp is only available for the iPhone – there isn't a version of the app for the iPad, despite WhatsApp CEO Will Cathcart (in January 2022) acknowledging in an interview that people had been asking for an iPad app for a long time. Cathcart revealed that much of the infrastructure to develop an iPad app is already in place, but he made no immediate promises.
But don't despair. In this guide, we'll show you how to use WhatsApp on iPad using WhatsApp Web. This service connects to the WhatsApp account on your iPhone (or Android device) and forwards the messages to your iPad so you can send and receive messages, photos and videos. It's not quite native WhatsApp on the iPad, but it's the next best thing.
WhatsApp for iPad release date
While right now there is no Whatsapp app on iPad, but one might come. Back in August 2021, there were reports that the team at Meta/Facebook-owned Whatsapp is working on a Whatsapp for iPad app. This news came via WABetaInfo, the twitter feed for Whatsapp beta news:
While Whatsapp's Will Cathcart didn't make any announcement about an upcoming iPad Whatsapp app in early 2022 (above), there is evidence that the company may be making progress in the field. A native Whatsapp for Mac app is in public beta (as of January 2023), and it shouldn't be too big of a leap from a macOS version to an iPadOS version. See: How to Get Whatsapp on Mac for more information on that.
How to get WhatsApp on iPad using Whatsapp Web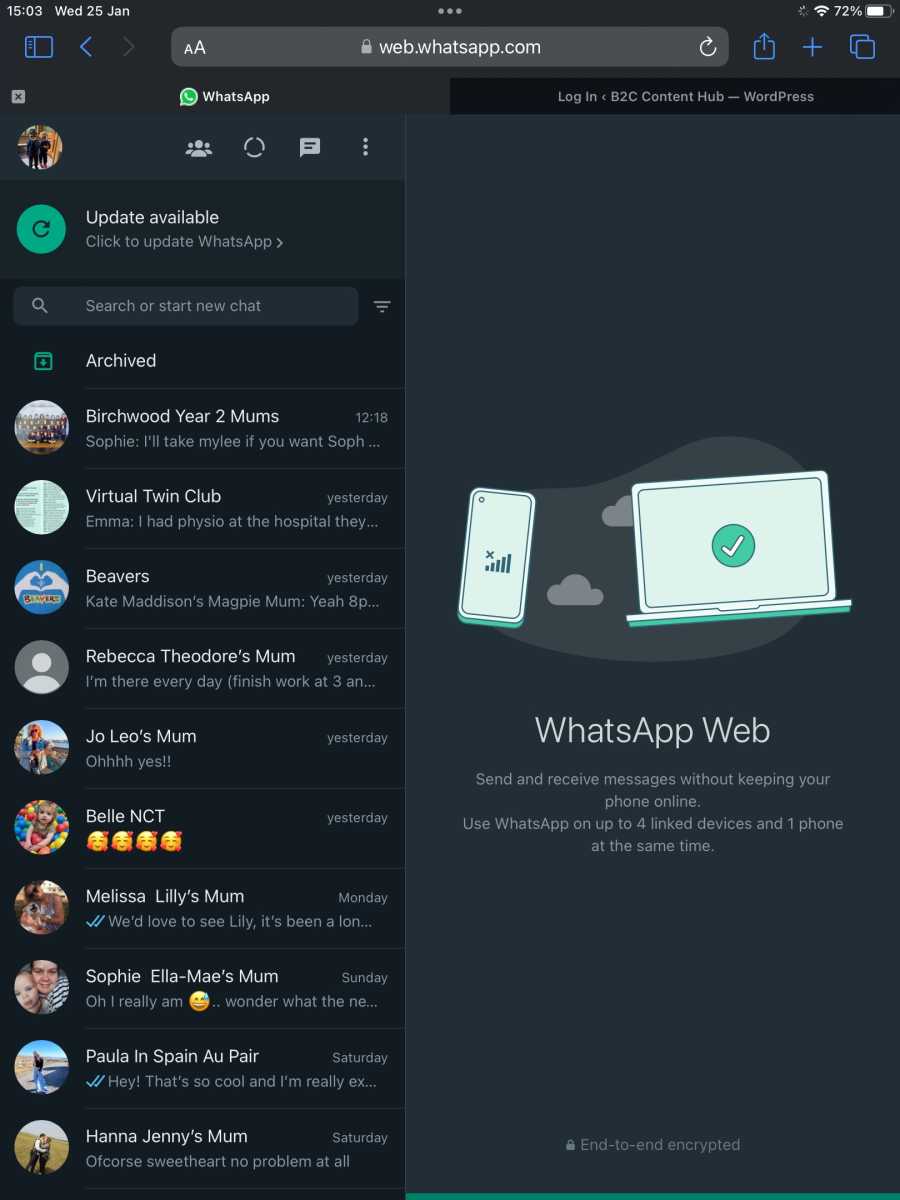 Foundry
Although there is no Whatsapp app for iPad, there are ways to get your Whatsapp on your Apple tablet.
Follow these steps to get WhatsApp on an iPad:
Open Safari on your iPad and go to web.whatsapp.com.
Open WhatsApp on your iPhone.
In Whatsapp, tap Settings.
Tap on Connected devices.
Tap Link a device.
Use your iPhone to scan the QR code and pair with your iPhone.
A web page should now load and display all your recent WhatsApp messages along with any media or voice memos.
Be aware that there are a few limitations when using Whatsapp this way. Most importantly, unlike when using the service on a Mac or PC, notifications from web browsers are not supported on iOS/iPadOS. You will not be notified of new messages.
Apart from that and a few minor bugs, however, the service is quite easy to use and a good alternative for WhatsApp users who want to access the service on iPad.
WhatsApp Web is a free and easy way to access the WhatsApp service on your iPad. While you won't get notifications (as you would when using the service on a Mac or PC), it's a great way to easily access your messages on a tablet.
Are you moving from Android to iPhone and want to keep your WhatsApp messages with you? Read: How to move WhatsApp messages from Android to iPhone.