The business case is ready, you have buy-in up and down the chain of command. You'll finally be able to get the agility, control, and resource savings you've wanted throughout your career with a switch to HPE GreenLake. It's full steam ahead! You just need to figure out two things – How will you finance the transition?; and what do you do with your old assets? Aligning your innovation strategy and innovation plans at the outset will help you ensure that your IT investment is a force multiplier.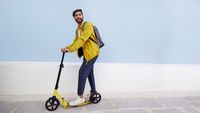 As you move to HPE GreenLake, it's more important than ever to ensure your asset and financial plans are aligned. By implementing a smart active lifecycle plan and using sustainability as a catalyst, you can:
Reduce funding barriers with capital released from end-use technology

Bridge the gaps when modernizing multi-gen environments to ensure business continuity
Build IT lifecycle processes that are coherent and globally accessible
Overcome supply chain constraints
One of the ways to achieve these goals is with HPE Accelerated Migration program through HPEFS. This sustainable asset management solution helps customers access the value in legacy equipment and move forward faster by converting existing, owned IT assets into an incremental source of cash while transferring the use of systems to HPE GreenLake. On-site technology becomes an enabler to bridge budget gaps without disrupting business operations.
This approach can produce good results. In fact, Worldline, the lArest European digital payment provider chose HPE GreenLake edge-to-cloud platform to accelerate digital transactions and deliver exceptional customer experience.With HPE GreenLake's flexible aaS model and HPE Financial Services' asset renewal program, Worldline funded approximately 25% of their platform update.
Step out of the shadow of your old infrastructure, quickly, easily and sustainably, and enjoy the view of HPE GreenLake.