Behind the Making of Khan Academy's New Science Videos
What makes Khan Academy's new science videos so engaging? Passion, creativity and some laughs. Four of our science video creators share their process and what they hope teachers and students get out of watching their content.
Stay updated on Khan Academy's scientific content
Want to receive the latest Khan Academy updates for science teachers? Sign up to hear from us throughout the year about our science content. Be one of the first 250 to sign up and we'll send you Khan Academy stickers for your class!
An insight into the video creation process.
Khan Academy's science content recently grew with the addition of middle school science courses. The new courses include over 60 new videos presented by a diverse group of experts and creators who shared their highlights while making these videos:
Tyson
Tyson believes the key to making his content successful is collaboration behind the scenes.
"My favorite part of the video making process is almost certainly all the collaboration that goes into it. Although my voice is the one you hear on the video, there are a number of people behind the scenes who also contribute to making the Khan Academy content so amazing , as it is. After I prepare my first draft of the script and visuals, the feedback from the rest of the team helps transform it into a final product that is even more clear, concise and fun to watch. My time with Khan Academy has made me a better content creator overall."
Tyson's video is part of the Matter and Energy in organisms unit within the NGSS discipline-specific adapted middle school biology course.
Wieteke
Fun and learning collide in Wieteke's video as she educates students about birds and ecosystems.
"I hope the students laugh and learn! I try to make my videos a little funny, but most of all I hope the students connect with the stories I put together in relation to the learning objectives and that they become a little more curious about the natural world around them. Bonus points if they also gain a new admiration for birds!"
Wieteke's video is part of the Ecosystems and Biodiversity unit within the NGSS discipline-specific adapted high school biology course.
Mia
Mia believes her enthusiasm (and doodles) in her videos will inspire others to get excited about learning science.
"I grew up watching Khan Academy videos. And although I usually started watching videos related to my schoolwork, the videos often inspired me to learn even more. Now that I'm making videos myself, I hope I can help others students to get excited about how much more there is to learn."
Mia's videos on the rock cycle, solar system, and solar eclipses can all be found within the NGSS discipline-specific Middle School Earth and Space Science Adapted Course.
Jennifer
Jennifer uses universal examples to help break down complex topics in her video.
"I love connecting all things science to everyday life, so one of my favorite things was finding examples that we can all relate to, even when explaining concepts as abstract as electricity. The engineer in me also loved the whole video production process and learning, how to from the Khan Academy team!
Jennifer's video is part of the Forces at a distance unit within the NGSS discipline-specific adapted middle school physics course.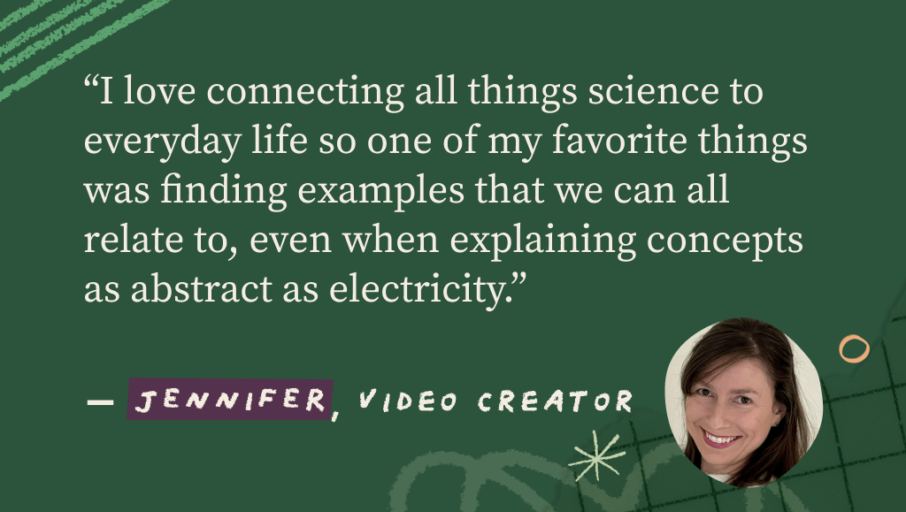 In addition to the video content.
In addition to captivating videos, our new middle school science courses include engaging activities and challenging NGSS discipline-specific tailored material. Like all courses at Khan Academy, there is a focus on mastery of key concepts and skills to build students' foundation of domain knowledge. As a result, students can participate fully in the collaborative investigations and technical challenges around which modern science classrooms are centered.