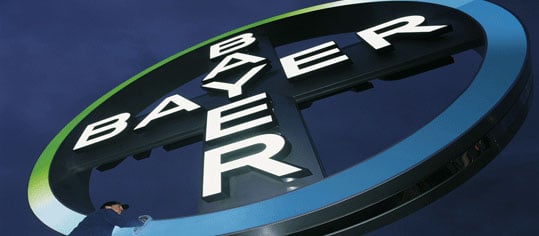 Bayer shareholders probably can't believe their eyes today: the share price was down 18% at the start of trading, and the stock is still under pressure. The reasons for the price debacle are both a renewed glyphosate setback and a termination of the study for Bayer's biggest drug hope, Asundexian.

First Monsanto trouble…
It's a truly black Monday for the chemical company. The course of Bayer shares fell to around 34 euros, its lowest level in over ten years. The Leverkusen-based company has had to cope with a lot since 2018 thanks to the burdensome Monsanto billion-dollar takeover – but Bayer shares haven't been this bad for a long time.
Bayer's streak of bad luck began on Friday with Monsanto and its controversial "Roundup" glyphosate: a US jury sentenced the pharmaceutical and agricultural company to pay more than $1.5 billion in another damages lawsuit. Three former users of the weed killer who blame the controversial product for their cancer were awarded large sums on Friday.
Glyphosate is and remains a financial debacle and litigation marathon for Bayer. Around 113,000 of the 160,000 cases brought by alleged victims have so far been completed. The group has set aside provisions for this amounting to $16 billion.
…then a study flop
On Monday morning, Bayer also announced that a phase III study examining the anticoagulant Asundexian in comparison to Apixaban for patients with atrial fibrillation and a risk of stroke would be terminated early. The decision is based on the recommendation of the independent Data Monitoring Committee (IDMC), as Asundexian has been shown to be comparatively inferior in effectiveness.
The active ingredient candidate for the prevention of strokes was considered one of the most important projects in Bayer's pharmaceutical research. The researchers also hoped that Asundexian would result in lower bleeding risks than with current agents. The drug should replace the current bestseller Xarelto in a few years and bring in annual revenues of up to five billion euros in the long term.
Apart from the recent setbacks that… Bayer share price The long-term chart picture is also a tragedy: at -8.6% pa, Bayer shares "deserve" the label "capital destroyer".
If, on the other hand, you would prefer to invest in the world's most successful stocks in the long term (=champions), which have demonstrated their particularly high investment quality for at least ten years, then be sure Get your free copy of the boerse.de stock letter now without obligation.
I wish you a relaxed, successful trading day,
Your Miss boerse.de
The post first appeared on www.boerse.de