Apple VR is tipped for a release this year, and with 2023 upon us, we won't have to wait long to find out what Apple has in store for its mixed reality headset, which will apparently offer immersive virtual reality and augmented reality- experiences.
If you didn't already know (where have you been?) virtual reality uses computer-generated imagery to create simulations of 3D environments and images that you can interact with, often using a headset. Currently, major players in the market include Samsung (Gear VR), Sony (PlayStation VR) and the artist formerly known as Facebook (Meta Quest 2).
Augmented reality is similar but different. It uses computer-generated imagery over the real world to create dynamic experiences that combine virtual reality and the real world, you've probably seen great examples both online and on YouTube, but this year it's Apple's turn to enter the fray. with its rumored Apple Reality Pro headset, which will offer a combination of mixed and virtual reality experiences in typical Apple fashion, including a typical Apple price tag.
Apple VR: AR, VR or both?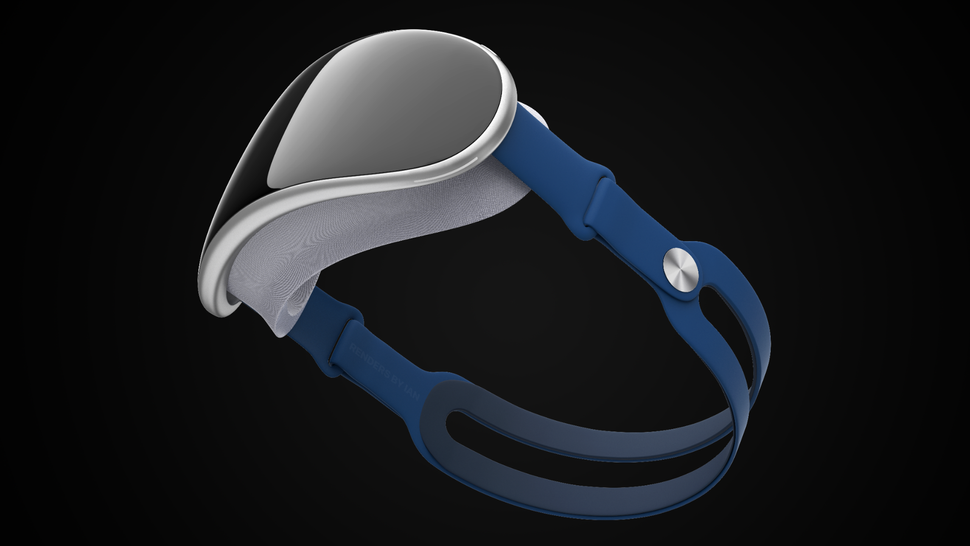 Apple's headset is reportedly a mixed reality headset. This means it will offer full virtual reality experiences (think Meta Quest, Beatsaber, etc.). However, it's also expected to have an augmented reality offering that can overlay virtual assets on top of your real-world surroundings (think Minecraft Earth, Pokémon Go).
Apple CEO Tim Cook recently teased in an interview with China Daily USA that Apple is "incredibly excited about AR." Cook also said he thinks we're still in "the very early stages of how this technology will evolve," but that he couldn't be more excited about the possibilities in the space. While we know that Apple is also working on an AR-focused device, it's possible that Cook could be hinting at the Apple VR headset and its AR capabilities.
On January 23, 2023, a report by Mark Gurman at Bloomberg indicated that the headset will support both virtual and augmented reality. Gurman said the headset, like the Apple Watch and AirPods Max, will have a digital crown that "lets users switch between VR and AR. When in VR, the wearer is fully immersed. When AR is activated, the content fades back and becomes surrounded by the user's real environment."
Apple VR: Release Date Rumors
According to the latest reports, the Apple VR headset is set to be released in the second half of 2023. The project has reportedly been delayed and is delayed. Ming-Chi Kuo predicts that the headset will be unveiled either at an event in the spring or at WWDC 2023.
Recently, the ultra-reliable Mark Gurman at Bloomberg has suggested that Apple will unveil its new headset before WWDC in June. This means we can expect to see Apple Reality Pro some time within the next 5-6 months, but we might not see it in stores and on shelves until later this year. This seems to make sense, as an earlier reveal would give developers time to create apps and experiences for Apple Reality Pro.
Apple Reality Pro: rxOS operating system
According to Mark Gurman, Reality Pro's operating system is called rxOS and is internally codenamed "Borealis", possibly a nod to the visual spectacle of the Aurora Borealis or Northern Lights.
According to The Information, the rxOS operating system will be able to run existing iPhone apps from iOS as 2D windows, but there will also reportedly be a heavy focus on virtual meetings and educational use.
Apple VR: Name
In a report in late August 2022, Bloomberg's Mark Gurman reported that Apple has filed several trademarks regarding the potential name of its headset and the processor that will power it.
According to the report, Apple has filed trademark applications through attorneys for the names "Reality One", "Reality Pro" and "Reality Processor" in the US, EU, UK, Canada, Australia, New Zealand, Saudi Arabia, Costa Rica and Uruguay.
Apple VR: Design
The drawing below is an artist's impression of photos seen by The Information of Apple's AR headset, with a fairly standard VR goggles section described as a "slim, curved visor" and an interchangeable mesh headband.
While Apple's VR headset was once thought to be a companion device that would use a hub for much of its processing power, it's now understood that Apple VR could be a standalone headset that requires no external processing.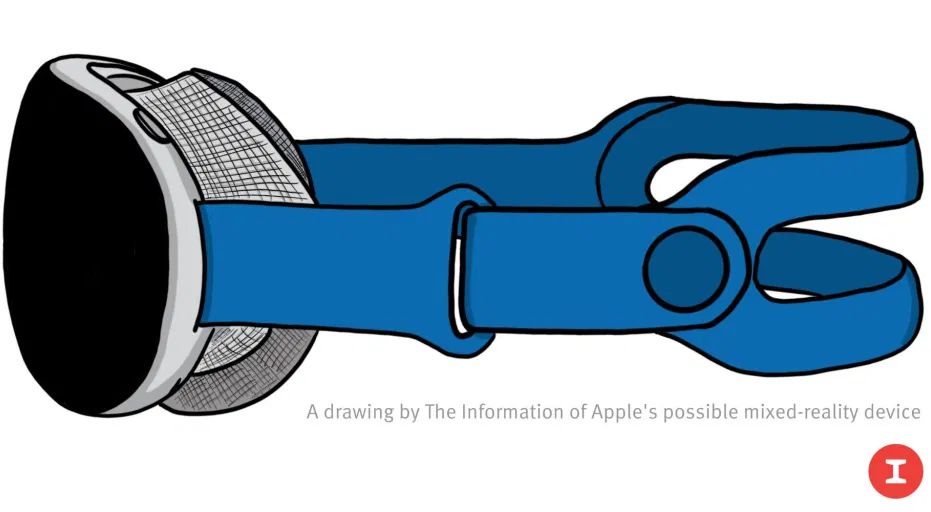 Reports indicate that the headset will be made of a mix of lightweight materials, including glass and aluminum. It may also have a digital crown like the Apple Watch and AirPods Max that will be used to switch between AR and VR.
According to a recent report, the new headset will have a battery pack that the user carries on their waste, connected to the headset by a cable. This will help reduce the weight of the headset and allow for hot-swapping batteries during gaming sessions, so you don't have to take your headset off and charge it or return to a wired connection.
Apple VR features
Apple's headset is tipped to be an "expensive" and "niche" competitor to established VR headsets. In early 2021, a huge story from The Information claimed that Apple's VR headset would have thaw 8K screens for high-fidelity images. It will also reportedly come with eye and hand tracking technology for full immersion.
The Apple VR headset could run on Apple's new Apple silicon chips, which recently debuted in its new Mac lineup. According to Bloomberg:

"Apple aims to include some of its most advanced and powerful chips in the headset, along with displays that have much higher resolution than those in existing VR products."

Gurman has even said that the M2 chip — Apple's latest silicon darling — is intended to be the brains of Apple VR.
The Information reports that Apple's headset will use small motors to automatically adjust its lenses for a better viewing experience.
The headset will also reportedly have an external battery back instead of one built into the headset itself. This may sound clumsy and provides an extra cable. However, it will also significantly reduce the weight of the headset and will mean you can hot-swap your battery for another external one instead of removing it to charge it.
The headset reportedly has not only two inward-facing screens, but a large outward-facing display that can show the facial expression of the person wearing the headset. It will also reportedly have a 120-degree field of view.
The headset doesn't seem to work with third-party Bluetooth headphones and doesn't have a headphone jack. Instead, it will work with AirPods or through speakers built into the headset.
In January 2023, Gurman added some additional details about what users can expect from a FaceTime experience with the headset. The reporter said that "the headset's FaceTime software will realistically reproduce a user's face and entire body in virtual reality. These avatars will allow two people – each with an Apple headset – to communicate and feel like they are in the same room. The technology separates from virtual meeting rooms on Meta's headset, creating a more cartoonish avatar of the user."
The report also noted that the headset will "display immersive video content, serve as an external display for a connected Mac, and replicate many features of iPhones and iPads."
Apple VR: Price Rumors
Prepare yourself. The Information reports that Apple's VR headset could cost as much as $3,000. It was previously reported that it would be an expensive product that would cost much more than current competitors, priced between $300-$900. According to JP Morgan, Apple VR may cost more to make than the iPhone 12. All signs point to Apple VR costing a very large sum of money. Similarly, Bloomberg's Mark Gurman suggests the headset will cost between $2,000 and $3,000.
Several Apple insiders have described the Apple VR headset as "game-changing" and "industry-leading," two sets of adjectives not usually followed by cheapos.
Apple VR is coming
Like winter in the Game of Thrones series, we know that Apple VR is coming. The company has repeatedly talked about AR and VR being the future, and it has increased the AR capabilities of its products in recent years.
Surprisingly, the rumors and leaks surrounding Apple VR have been pretty sparse, which probably means we're all in for a real treat when Apple finally announces what they've been working on all these years.