Apple has removed from the App Store all iOS apps belonging to Russian tech conglomerate VK, a move Apple says is a response to the latest round of UK sanctions against Russian oligarchs.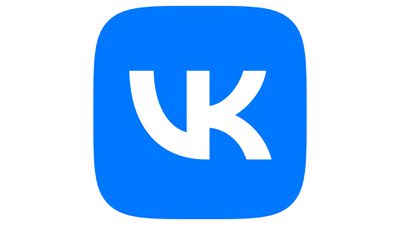 "These apps are being distributed by developers that are majority-owned or majority-controlled by one or more parties sanctioned by the UK government," Apple spokesman Adam Dema said in a statement provided to The Verge. "To comply with these sanctions, Apple has terminated developer accounts associated with these apps, and the apps cannot be downloaded from any App Store, regardless of location. Users who have already downloaded these apps can continue to use them."
The British government on Monday adopted a new package of sanctions affecting dozens of executives at Gazprombank, a Russian bank with ties to VK. The sanctions were in response to fake referendums that Russian authorities have recently staged in occupied territories of Ukraine.
The Russian Ministry of Digital Affairs told state media RT that it investigated "the reasons for deleting VK applications and developer accounts, which emphasized the social importance and extent of the use of the services provided by the Russian company." Meanwhile, VK told the Russian news media Interfax that apps may continue to function, but that there may be problems with notifications and payments.
VK, or VKontakte, is a social media app created in 2006 by Pavel Durov, who also founded and still runs Telegram. Durov was dismissed as CEO of VK in April 2014 after he allegedly refused to hand over users' personal information to the Russian Federal Security Service.
Apple's removal of apps from its ‌App Store‌ means that users will no longer have access to the app for social media network VK, the fourth most popular website in Russia, as well as Mail.ru and VK Music. The apps were included in a list that Apple was legally required to show new iPhone owners in Russia for download during initial setup until Apple stopped selling its products in the country.
Note: Due to the political or social nature of the discussion on this topic, the discussion thread is located in our political news forum. All forum members and visitors are welcome to read and follow the thread, but posts are limited to forum members with at least 100 posts.
Popular stories
YouTuber tests Apple Watch Ultra durability with a hammer: Table breaking before the watch
A YouTuber has put Apple's claims about the durability of the Apple Watch Ultra to the test by putting it up to a drop test, a jar of nails and repeated blows with a hammer to test the sapphire glass that protects the screen. TechRax, a channel popular for testing product durability, first tested the Apple Watch Ultra by dropping it from about four feet. Apple Watch…
Six big products to expect from Apple in 2023
As we near the end of a busy product release season for Apple with only new iPads and Macs left to be announced in the next month or so, we're also setting our sights on 2023. Apple is rumored to have several major products in the pipeline for next year, including new Macs, a new HomePod, a VR/AR headset, and more. Aside from new iPhones and Apple Watches, which are expected…
Gurman: New iPads and Macs may be announced through press releases, no event in October
Apple may decide to release its remaining products for 2022, which include updated iPad Pro, Mac mini and 14-inch and 16-inch MacBook Pro models, through press releases on its website rather than a digital event, according to Bloomberg's Mark Gurman. In his latest Power On newsletter, Gurman said Apple is currently "likely to release its remaining 2022 products via press releases,…
Ten things AirPods Pro 2 Tell us about AirPods Max 2
Following the release of the second-generation AirPods Pro, the AirPods Max became the oldest current-generation AirPods product still in Apple's lineup. By introducing several new features like Adaptive Transparency and the H2 chip, the second-generation AirPods Pro may provide some of the best indications yet of what to expect from the second-generation AirPods Max. Almost two years later, rumors…
iPhone 14 Pro has live sports scores in Dynamic Island on iOS 16.1
Earlier this month, Apple announced that iOS 16.1 will enable a new Live Activities feature that allows iPhone users to keep up to date with things happening in real time, such as a sports game or a food delivery order, right from the lock screen . On iPhone 14 Pro and Pro Max, Live Activities is also integrated with Dynamic Island. Premier League match at Dynamic Island via Paul Bradford …
Some iOS 16 users continue to see unaddressed bugs and battery drain two weeks after launch
Today marks exactly two weeks since Apple released iOS 16 to the public. Besides the personalized lock screen, big changes to notifications, and new features in Maps, the update has also seen its fair share of bugs, performance issues, battery drain, and more. After major iOS updates, it is normal for some users to report that they have problems with the new update, but such reports usually disappear in…
Verizon iPhone 14 Pro customers are reporting cellular connectivity issues
iPhone 14 Pro customers on the Verizon network in the US are reporting issues with slow and unreliable 5G cellular connections and randomly dropped calls. Several threads on Reddit (1,2,3) and the MacRumors forums talk about issues facing Verizon customers and Apple's latest iPhone. According to user reports, the signal strength of the iPhone 14 Pro is unreliable and weak, while other…
The iPhone 15 'Ultra' could replace the Pro Max model next year
Apple is preparing to possibly replace its "Pro Max" iPhone with an all-new "Ultra" iPhone 15 model next year, reliable Bloomberg journalist Mark Gurman said today. Gurman wrote in his latest Power On newsletter that for the iPhone 15, Apple is planning a redesign along with USB-C and a potential name change. Apple could replace its "Pro Max" branding, which it started using…
Apple Watch Ultra User Mods Titanium case for 'Deuglify' design
An Apple Watch Ultra user has modified their new device's case to add a brushed finish and remove the orange color on the action button in an attempt to make it more visually appealing. The Apple Watch Ultra offers the first complete redesign of the Apple Watch since the product line's announcement in 2014, and while the design has been met with praise from many users, some have criticized…