With the official launch of the Apple Watch Ultra looming, Apple has shared a support document about the new Depth app exclusive to the device. Designed to be used for recreational diving, the Depth app provides information on water temperature, current depth, maximum depth and more. ‌Apple Watch Ultra‌ can be used for diving up to 40 meters deep (130 feet).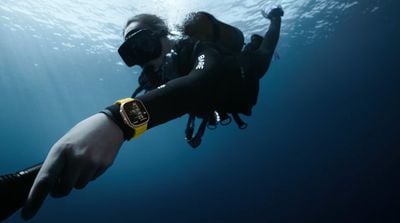 Apple cautions that the Depth app is not a dive computer and cannot provide decompression stop or gas analysis information. In situations where failure of the ‌Apple Watch Ultra‌ could lead to death or personal injury, Apple suggests using a secondary depth gauge and timer. Apple further recommends that the ‌Apple Watch Ultra‌ be used only by trained divers who follow safety protocols and dive with a buddy.
The support document goes over how to use the Depth app, which can be set to automatically launch when the ‌Apple Watch Ultra‌ is submerged in water one meter deep or more. When the Depth app starts, the ‌Apple Watch Ultra‌ turns on Water Lock to prevent screen activation, and a session can be ended with a tap and hold on the Digital Crown.
The Depth app provides a consolidated dive summary at the end of a dive session, telling users the length of the dive, water temperature range and maximum depth.
Apple has also provided a new support document detailing everything the new Compass app can do, highlighting how to use the Backtrack and Waypoint features, plus there's information on the recommended temperature range for various Apple Watch Ultra activities.
Popular stories
AirPods Pro 2: Six new features if you upgrade
The new second-generation AirPods Pro will begin arriving to customers on Friday, September 23. For customers still using first-generation AirPods Pro or older AirPods models, there are several new features and changes to look forward to. We've outlined six significant new features, changes and improvements that the new second-generation AirPods Pro offer compared to older…
Apple says iPhone 14 Pro camera vibration issue does not require repair
A strange issue that causes the rear camera to vibrate on some iPhone 14 Pro and iPhone 14 Pro Max models does not require a repair, according to Apple. iPhone 14 Pro Camera Vibration Problem via Luke Miani When asked if customers who have already experienced the problem on their new iPhone should visit an Apple Store or an Apple Authorized Service Provider, Apple said users should simply update…
iFixit shares iPhone 14 teardown, praises new design with easily removable screen and back glass
Repair site iFixit today shared a video teardown of the standard iPhone 14. In a blog post, iFixit CEO Kyle Wiens praised the device's more repairable internal design, calling it the most comprehensive iPhone redesign since the iPhone X. As mentioned in a few reviews , the iPhone 14 and iPhone 14 Plus are the first iPhone models that can be opened from the back of the device since…
Realme Crowdsourcing Ideas to Copy Apple's Dynamic Island
Chinese smartphone maker realme is asking its "loyal fans" for ideas on how to replicate Apple's Dynamic Island from the iPhone 14 Pro and iPhone 14 Pro Max. In a challenge, realme says, "the user interface around the camera hole can transform into different shapes and sizes to display incoming phone calls, alerts, notifications and more," just like Apple's Dynamic Island. The company finds this idea…