When Apple began allowing iPhone users to opt out of being tracked by third-party apps with the App Tracking Transparency (ATT) feature last year, Facebook complained the loudest with CEO Mark Zuckerberg shelling out the big bucks it costs to run full-page ads in some major newspapers . And as it turned out, Zuckerberg knew exactly what was coming, and as he predicted, it was a disaster.
Apple's App Tracking Transparency Cost Facebook $10 Billion in Potential Revenue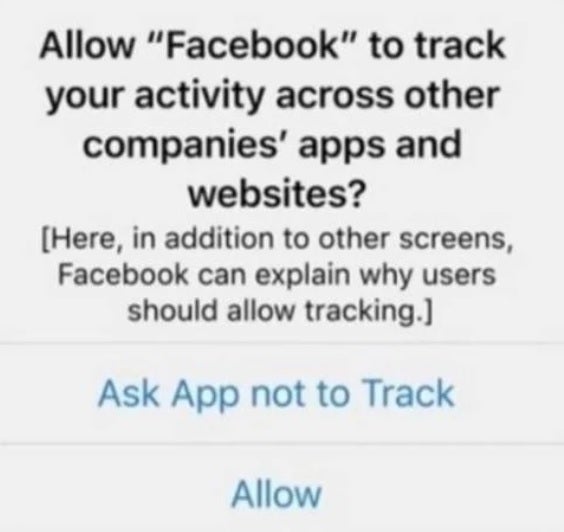 Apple's App Tracking Transparency allows users to opt out of being tracked by third-party apps and websites
Krause said Facebook and its Instagram unit could use JavaScript to grab your credit card data, address, passwords and more without your permission. Now comes word that two class action lawsuits have been filed against Facebook parent Meta by three iOS users citing Krause's claims. The lawsuits were filed on behalf of all affected iOS users and accuse Meta of committing several illegal acts, including:
Concealment of Privacy Risks.
Ignores the privacy choices made by iOS users.
"To intercept, monitor and record all activity on third-party websites viewed in Facebook or Instagram's browser.
The plaintiffs allege that Meta used the collected data to collect "personally identifiable information, private health information, text entries and other sensitive confidential facts." The users whose information was allegedly stolen by Meta had no idea this was happening. The latest application was made yesterday by California's Gabriele Willis and Louisiana's Kerreisha Davis.
Polk told ArsTechnica that "Just using an app doesn't give the app company license to look over your shoulder when you click on a link. This lawsuit seeks to hold Meta responsible for secretly monitoring people's browsing activity through tracking in app, even when they haven't allowed Meta to do so."
Lawyers for the plaintiffs argue that Meta can force Facebook users on iOS to use the in-app browser

The complaints related to the class action "revealed that Meta has injected code into third-party websites, a practice that allows Meta to track users and intercept data that would otherwise be inaccessible to it." Researcher Krause has determined that Meta uses code to override the wishes of Facebook users who want to use their default browser, forcing them to use Facebook's in-app browser instead when using the app.
Time to buy Apple iPhone 14 Pro or iPhone Pro Max

This allows Facebook to track keystrokes from iOS users. The lawsuit says that "Meta acknowledged that it tracks Facebook users' in-app browsing activity," and the company has also confirmed that the data it collects from its in-app browser to deliver targeted advertising. The lawsuit also accuses Meta of deliberately leaving users in the dark.
As the suit notes, "Meta does not inform Facebook users that clicking on links to third-party websites from within Facebook will automatically send the user to Facebook's in-app browser, as opposed to the user's default web browser, or that Meta will monitor the user's activity and communications, while on those sites. Because nothing alerts users to these facts, they are unaware of the tracking; most don't even know they're browsing the third-party site from within Facebook's in-app browser."
Facebook and Instagram users, especially those using the iOS versions of these apps, remember this saying. The forewarned is the fore-armed.