Imagine that you are an immigrant who has fled your home country to the United States due to fear of persecution and torture.
You may be concerned that your home country's government or a gang will find out that you are seeking safety in the United States and retaliate against you or family members left behind.
What you absolutely do not want is for the agency handling your asylum application to be careless with your personal information – potentially putting you and your loved ones' lives at risk.
For this reason, federal regulations prohibit the disclosure of highly sensitive information about asylum seekers without the sign-off of senior officials at the US Department of Homeland Security (DHS).
And yet, despite safeguards and regulations, thousands of people's lives have been threatened after US Immigration and Customs Enforcement (ICE), a division of DHS, carelessly published their personal information on its website.
ICE confirmed that it had "erroneously" released the names, dates of birth, nationalities and places of detention of 6,252 immigrants during what is believed to have followed a routine update on November 28, 2022.
The highly sensitive information was available on ICE's website for five hours before it was discovered by the immigrant group Human Rights First.
According to media reports, ICE has now released nearly 3,000 people whose personal information was exposed in the accidental data breach, and has decided not to deport any affected immigrants until they have had a chance to argue their case in immigration court.
While that will help mitigate the damage caused by the careless data leak, it won't help the more than 100 immigrants whose information was included in the leak and who had already been deported when the breach was discovered.
It also doesn't help that the fewer than 10 people who officials say were expelled shortly after the data breach was discovered, and yet hadn't been informed of what had happened.
ICE, in an effort to remedy that, says it is willing to help people it has deported who want to return to the United States and seek asylum again.
Immigration Attorney Curtis Morrison say he has filed a lawsuit on behalf of the more than 20 immigration detainees allegedly at risk from the data breach.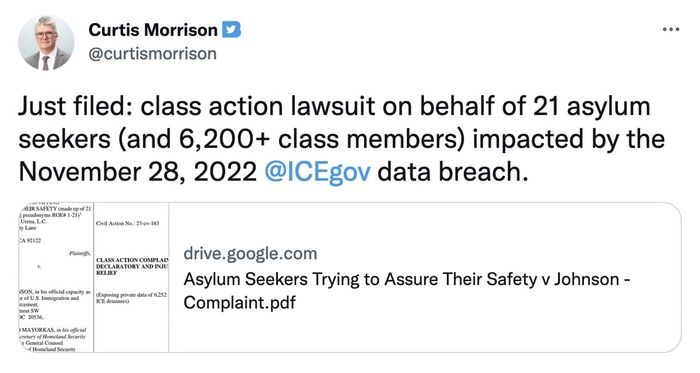 ICE, meanwhile, says it will allow some immigrants affected by the data breach to seek asylum even though they would not normally be eligible.
Is it enough to address the damage caused by the data breach? Somehow I don't think so. I am not convinced that I would be happy if I were one of the unfortunate people who fled their country in an attempt to find a better life.